Training
Welcome to the OPiS Competence Center
Creativity, competence and expertise
Turning ideas into success
Our name is synonymous with the highest quality of support and outstanding services. We offer our customers, partners and clients competent assistance in the form of customised training courses. Familiarise yourself with our methods and techniques for marketing soil stabilisation with NovoCrete® and put your newly acquired knowledge into action. From autumn 2015, you will be able to gain specialised knowledge by taking advantage of our training offers.
The topics taught will include the necessary knowledge and skills for providing consultation services, the testing, inspection and processing of construction materials and cement additives in soil stabilisation, the selection and use of suitable machinery, the marketing of services, the certification to different standards and specifications as well as the marketing management of NovoCrete®.
The training courses will be held at different locations, such as in our offices in Schaffhausen (Switzerland), in Germany or at your business premises.
They will comprise 4 different stages:
Site visit, familiarisation with the practical knowledge you need
Possible applications and solutions
Thorough training in soil stabilisation
Commercialisation strategies and marketing
---
We offer competent and customised assistance and ensure you obtain maximum benefit. Take advantage of our training courses:


Processing
Construction supervision/monitoring, execution, managing site personnel, checking and analysing services performed, costs and quality, methods and techniques of soil stabilisation, project management
Decision-making
International project management, sustainability, commercialisation strategies, project and planning management, organisation, marketing strategies, financing models, warranty claims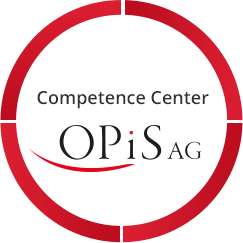 Laboratory
Hydrology, geotechnics, soil mechanics, site management, engineering, quality assurance, analysis methods, development concepts, soil analyses and soil samples
Distribution
Acquisition of new clients and support of existing ones, technical consultation and sale of product range, international activities, financing options
---

As well as transferring knowledge and expertise, we also share the practical skills we needed to complete some of our past projects.


You too can become a certified member and benefit from this efficient transfer of knowledge. Execute your future projects independently and achieve even more with your new-found project management skills.

Back up your practical experience with sound theoretical knowledge! We look forward to welcoming you to the OPiS Competence Center.